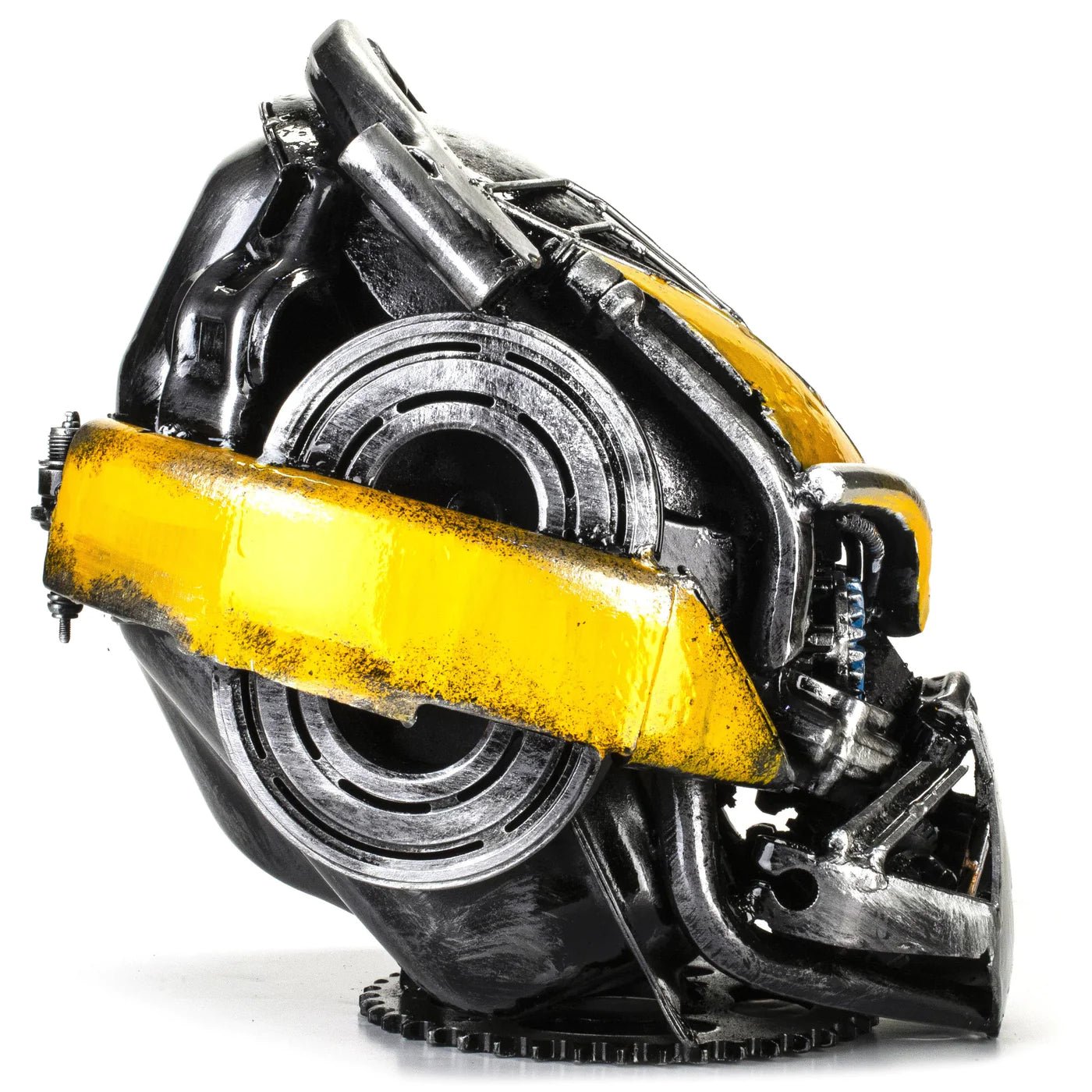 BumbleBee Head
---
Pickup available at Pangea Showroom
Usually ready in 1 hour
UK customers enjoy free shipping, while international shipping costs will be calculated at checkout
This is an original, hand-made Pangea exclusive work of art. The metal is old and overlooked automotive parts filling up landfills and is recycled by hand welding hundreds of car, motorcycle, and moped parts together to form this one-of-a-kind art. Then hand painted and lightly coated with clear coat lacquer.
Drawing inspiration from the Transformers series, this remarkable creation is an exquisite addition for those who value handmade art or are avid fans of the film (or both). Ideal for adorning your home, office, or movie theater, this sculptural masterpiece also makes for an exceptional gift.gift.
As each sculpture is unique and one-of-a-kind, please allow for variations in size and color, as you may not receive the exact item shown. 
Our experienced team will safely ship this art to your home.

Dimensions: 

H 30cm
W 40cm
L 35cm

Crafting our Stunning Metallic Marvel sculptures
Our metal figurines and figures are crafted to perfection by skilled artisans using traditional techniques that have been honed over generations. Each piece is carefully designed with attention to detail, ensuring that every aspect is precise and flawless.
Once the design is finalized, the artisans carefully select the metal that will be used for the sculpture. We use high-quality metals such as bronze, steel, and copper, which are skillfully manipulated to bring the sculpture to life. Using specialized tools and techniques, the artisans cut and shape the metal with precision, creating intricate details and unique textures that make each piece truly one-of-a-kind. They work meticulously on each sculpture, ensuring that every aspect of the piece is perfect.
Once the sculpture has been crafted and forged, it undergoes a meticulous finishing process. The metal is polished, lacquered, or patinated to create a stunning finish that highlights the beauty of the metal and brings the sculpture to life. Investing in one of our handcrafted metal figurines or figures is a unique way to add a touch of elegance and sophistication to your home or office. Our sculptures are certain to be a cherished focal point in any space, bringing a touch of beauty and artistry to your environment.
This product is rated 5.0 of 5.0 stars.
It has received 1 review.