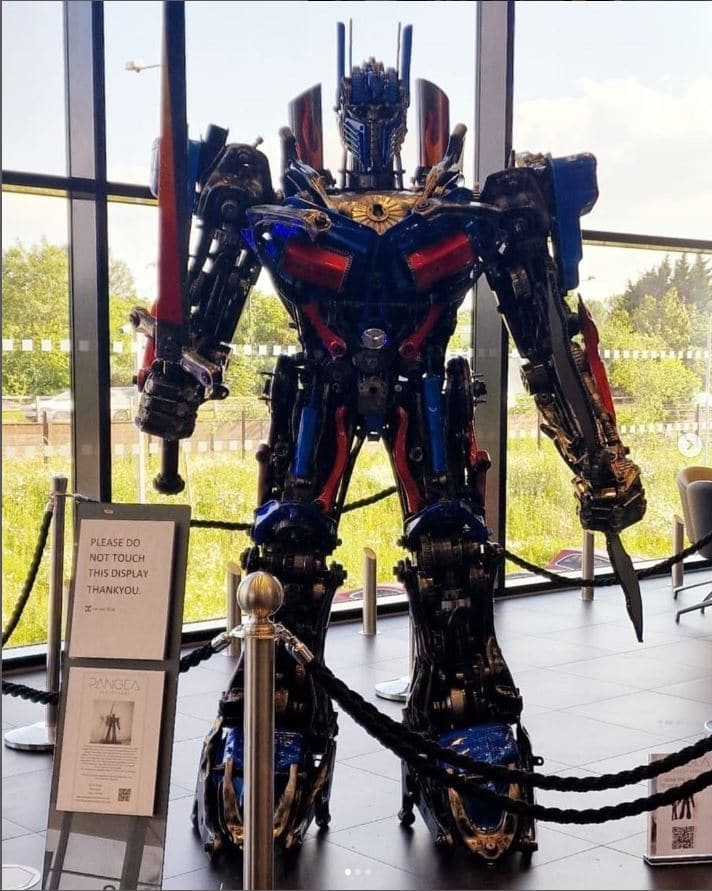 Optimus Prime - Life Size
---
Pickup available at Pangea Showroom
Usually ready in 1 hour
Optimus Prime - Life Size
UK customers enjoy free shipping, while international shipping costs will be calculated at checkout
Introducing the ultimate addition to any collection of fine art and pop culture memorabilia - the 8ft 2-inch Metal Optimus Prime Sculpture with Sword!
Crafted with the utmost attention to detail, this stunning sculpture is a true work of art. Every inch of this imposing figure is crafted from high-quality metal, ensuring both durability and a striking appearance that is sure to impress even the most discerning collectors.
Standing tall at over 8 feet, this magnificent sculpture commands attention with its powerful presence and intricate design. The iconic figure of Optimus Prime is brought to life in three dimensions, capturing the essence of this beloved character from head to toe. With dynamic, flowing lines and an impressive level of detail, this sculpture is a true masterpiece of craftsmanship.
And let's not forget the included sword, which adds another layer of excitement and drama to this already-impressive piece. The sword is crafted from the same high-quality metal as the sculpture itself and is designed to be easily removable for display or storage.
Whether you're a long-time fan of the Transformers franchise, or simply appreciate fine art and sculpture, the 8ft 2-inch Metal Optimus Prime Sculpture with Sword is sure to become the centrepiece of your collection. Don't miss your chance to own this incredible piece - order now and experience the thrill of owning a true masterpiece!

Dimensions: 

H 350cm (Including Sword)
W 160cm
L 150cm

The crafting of this magnificent limited-edition sculpture
This 8ft 2 inch Optimus Prime sculpture is a remarkable work of art, crafted in Asia using car parts and metal fabrication techniques. Painstakingly created by skilled artisans, this 1-1 replica of Optimus Prime is a testament to their expertise and dedication.
The sculpture is constructed using high-quality car parts and precision metal fabrication, resulting in an impressively realistic representation of the beloved character. Once the fabrication is complete, the sculpture is painted to perfection, adding the finishing touch to this incredible work of art.
As a one-to-one replica of Optimus Prime, this sculpture is certain to impress any fan of the Transformers franchise. Its imposing size and stunning attention to detail make it a standout piece that is sure to be the centerpiece of any collection.
This product has no reviews yet.